All About Metalspray Engineering Ltd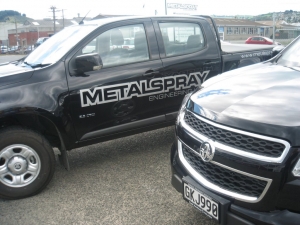 Original founder, John Shanks, saw an opportunity when he heard about a machine that sprayed metal to repair damaged parts. This was a truly unique innovation and after considerable research he imported the first Metalspraying machine into New Zealand and in 1958 went about forming Metalspray Engineering Ltd.
This forged a new niche in the local engineering industry, allowing for damaged or worn parts to be repaired at a fraction of their replacement cost, meaning this technology was quickly accepted by customers. That original machine has since been replaced with advanced metalspraying technology and the company is now able to spray most metals, as well as ceramics.
Metalspray grew quickly expanding its engineering sevices to include tool and die making, CNC milling, general engineering, gear cutting, special purpose machine building and maintenance engineering.
During its 50 plus years of business Metalspray has contiued with founder, John Shank's philosophy, with ongoing investment in plant and technology to best meet customers' requirements. The latest edition being a German "Spinner CNC Machining Centre".
High-tech plant is not the only reason for Metalspray's success, and it is fortunate to have a team of highly skilled, committed and experienced staff who pride themselves on their high standard of work, for which Metalspray is well known.
Warren Thompson - Workshop
Warren is the third longest serving member of the Metalspray Engineering team, having been with the company since 1984. Warren followed in his father's engineering footsteps, completing his apprentice as a fitter & turner with Farra Engineering right here in Dunedin. After travelling to Australia for an extended holiday Warren started work for the company as a tradesman, and worked his way up over the years to hold the position of Workshop Manager, and now oversees approximately 20 staff. Warren lives in Dunedin with his wife and children.
AH: 03-473 8738
Mobile: 021-222 9806
Email: warren@metalspray.co.nz